Huws Gray a big fan of Chester and North Wales air conditioning company
20/02/19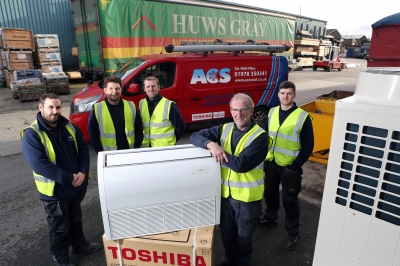 A Chester and North Wales air conditioning company is playing a crucial role as a well-known builders' merchants rapidly expands across the UK.
ACS Cool designed and installed air conditioning at Huws Gray's revamped head office on Anglesey. The project follows on from similar schemes at branches in Manchester, Shrewsbury, Yorkshire, Blackpool, and Preston.
The work at Huws Gray's headquarters was the first phase of activity, which involved an old wood shed unit being converted into offices for the company's staff. ACS Cool, which was founded in 2004, has been appointed to deliver phase two.
The expansion and upgrade of offices is a result of Huws Gray's ambitious growth plans, which includes acquiring regional builders' merchants. The family firm has completed a number of acquisitions in the last 12 months.
And Gareth Shipley, founder and director of ACS Cool, is proud to be working successfully with such a 'prestigious' company.
He said: "We have been engaged by Huws Gray for six years, and are trusted to operate on all its sites.
"The project at their head office is very exciting, and the first part of the scheme provided a couple of challenges. Firstly, there was limited space to operate and it was a live yard with normal day-to-day activity taking place.
"It was important to have as small a footprint as possible with the outside air conditioning units. Traditionally, multiple small units would be fixed to the walls of the building, but we installed a VRF (variable refrigerant flow) system, which allows the air conditioning to run from just one slightly larger unit.
"We spent four weeks on site for phase one, which included 13 offices and a boardroom. Five engineers spent time on site throughout the project to ensure it finished on schedule while adhering to health and safety and causing as little disruption as possible.
"Our activity included design, running the piping, installing the circuit and control wiring, and installing condensate drains. We worked closely with the builders, plumbers, and electricians to ensure we didn't interfere with their work."
Gareth added: "We are a family company, and we share a lot of the same values as Huws Gray. We were thrilled when we were asked to carry out phase two, which includes nine offices as part of a refurbishment."
A spokesperson for Huws Gray said: "We would like to thank ACS Cool for the recent work carried out at our head office in Llangefni, and for their continued work throughout our branch network.
"ACS took care of everything from planning to installation, and the work was completed to an impeccable standard. Our new refurbished head office will help continue with the company's growth and we look forward to the completion of phase two."
ACS Cool specialises in domestic and commercial, including office, air conditioning servicing, maintenance, and installation.
When the heat is on,
let ACS cool you down!
Get in touch with us today to find out more about any of our services, to request a quotation or to organise your free survey to see how our services can benefit you.