Air conditioning installations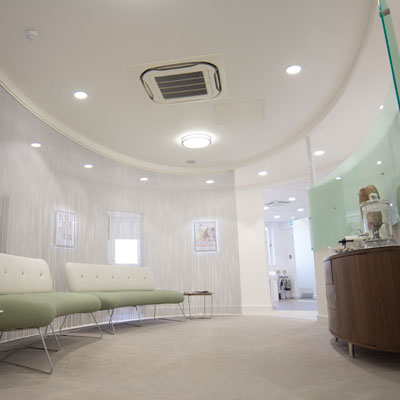 We will install any manufacturers Air Conditioning equipment to your required specification. We install units from Daikin, Fujitsu, Hitachi, LG, Mitsubishi HI and Mitsubishi Electric and Toshiba.
We are always happy to advise on prices for different brands giving you the opportunity to select the best option for you.
We can tailor the unit choice to your needs and requirements which are personal to you. For some Energy consumption is vital, others price is more important. We can provide systems with user friendly controls with handheld or wall mounted controllers, floor units (ideal for conservatories) and ceiling cassettes.
We take time to ensure you have a quality installation with care and attention to detail and efficiency.
External units can be placed depending on the requirements and also dealing with other factors like neighbours and planning consents.
We have installed a variety of units for a wide span of customers over the years including Butchers, Factories, Shops, Jewellers, Travel Agents, Post Offices, Clubs, Medical Centers, Dentists, Hotels and even a Castle!!
We can installing anything from one unit upwards, to several on a VRF system.
Heat Pump Technology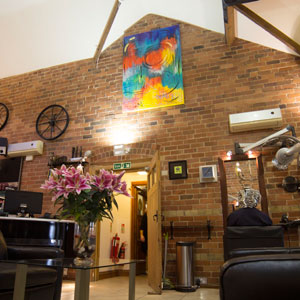 How do they Work?
Heat pumps are integral to an air conditioning system, transferring heat from one environment to another via a refrigerant. Heat pumps also offer a cost-effective heating solution - and air source heat pumps are recognised as a renewable heat technology.
In cooling mode, heat pumps work by transferring the heat from a room or internal space to the outside air, thus cooling the inside area. In reverse, heat pumps can extract latent heat from the outside air (even when the temperature outside is down to -20°C) and pump it inside to heat indoor spaces.
How Efficient are they?
Heat pumps are around 300% efficient. This means that for every unit of energy used by the heat pump in operation, three or more units of heat are generated for use in a building.
As heat pumps work by extracting available heat from the outside air, they are far more efficient than even the most efficient fossil-fuel based heating systems.
Using an integrated heat pump solution to both cool and heat a building can also mean a lower initial investment, as well as simpler operation and maintenance procedures.
Intesis - Control your Air Conditioning via Mobile Phones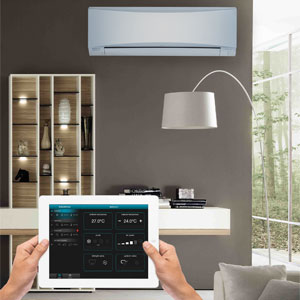 IntesisHome® is a remote climate control system, allowing management of your Air conditioning from anywhere using Smartphone, Tablet or any web browser.
From an Intesis Home App / webpage you can turn the unit On/Off, change the mode, see the room temperature, change the fan speed and vane position of the AC unit. you can also set up timers and adjust automatic operation.
IntesisHome has two solutions to adapt to your needs. One general solution and another one more specific with more demanding functions:
Universal Wi-Fi Controller
Can be located anywhere in the room or can be powered directly from the AC unit. The universal device communicates with the Air Conditioning through the infrared, just like your standard remote controller. That can get to control almost any air conditioning brand and model.
Specific Wi-Fi Controller
The best option for advanced control. Specific devices have the advantage that they can communicate directly with the Air Conditioning unit broad. Moreover, they can show extra information such as error codes and error descriptions, as well as power consumption, depending on each AC brand.
Our team use these at home and find it great to be able to turn the Air Conditioning on while on the way home, so it is nice and warm ready when you get home. We can also set up multiple timers, for example one for working days and another for weekends.
You can find out more on the IntesisHome website
When the heat is on,

let ACS cool you down!
Get in touch with us today to find out more about any of our services, to request a quotation or to organise your free survey to see how our services can benefit you.