Make your Caravan a home from home with air conditioning this summer
13/07/23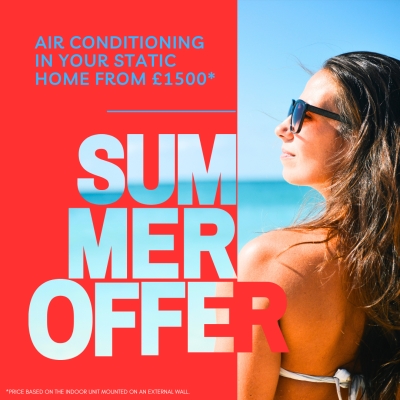 It looks like we're in for an excellent summer. In fact, predictions suggest that 2023 will be the 10th successive year that temperatures have reached at least 1C above pre- industrial levels.
While it's great to holiday in the sun - it's also nice to escape the heat and humidity, and relax in a cool and refreshing environment. To ensure you enjoy your holiday at your preferred temperature add air conditioning to your caravan or park home this summer.
Air conditioning won't just cool and heat your mobile home it can also help to reduce humidity levels, which can prevent problems such as damp and mould, it could also increase its overall value and desirability to potential renters or buyers.
Installation is easy and mess free, and to make it even easier to stay cool this summer we're offering to supply and fit your new unit for only £1500*.
If you'd like one of our experienced team to fit air conditioning in your mobile home this summer, and make it feel more like a home away from home contact us today.
*Price based on the indoor unit mounted on an external wall.
When the heat is on,
let ACS cool you down!
Get in touch with us today to find out more about any of our services, to request a quotation or to organise your free survey to see how our services can benefit you.