Keep your small business cool this summer with ACS
14/07/22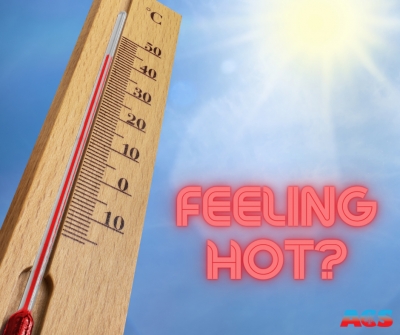 Summer is well and truly here - and it's hot! This past couple of weeks have been very hot to say the least, in fact forecasters are predicting that this could be one of the hottest summers on record.
It's great news to see the sun shining...on the weekend when you can enjoy it - sunning yourself in the back garden, stoking up the barbecue and sitting yourself in the paddling pool, a glass of cold, crisp wine in hand - but what happens when you get back to work on the Monday? Buildings in the UK aren't designed with this hot weather in mind, in fact they're designed to do the opposite and keep warmth in.
According to Annie Shuttleworth, a meteorologist from the Met Office "When we experience heat abroad, we're usually on holiday, and may be close to a pool or the beach. In general, buildings and infrastructure are also more set up for heat abroad – for example, there is more air conditioning."
If you're sweltering at the office or you're setting perms in a boiling hot salon we can help. We work with all types of small businesses - from keeping server rooms in offices cool to ensuring pets stay at the perfect temperature in treatment rooms, clinical rooms and reception areas at the vets.
Contact us for a free, no obligation quote today and speak to the team who will guide you through the many advantages that air conditioning can offer you and your business this summer.
When the heat is on,
let ACS cool you down!
Get in touch with us today to find out more about any of our services, to request a quotation or to organise your free survey to see how our services can benefit you.