Convert your existing air conditioning unit into a powerful air sanitiser
27/11/20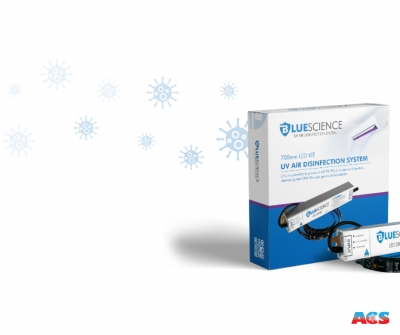 Your safety and wellbeing are paramount to us here at ACS, so we're pleased to announce that we can now keep your home and business as safe as possible during these unprecedented times with BlueScience UV-c light technology - using its disinfectant properties to convert an existing air-conditioning unit into a powerful air sanitiser.
How does it work?
Warm and contaminated air is pulled in through the top of your existing air-conditioning unit, where it is then cooled via the unit's cooling coil. The BlueScience system then immerses the air around the cooling coil in UV-c light, sanitising it during the process. The cool air is then dispensed by the air-conditioning unit free of virus, bacteria, moulds and odours.
Not only does BlueScience kill viruses and bacteria, it can also act as a neutraliser to unpleasant or overpowering odours that are often found in environments such as restaurants, bars and gyms.
How long does it take to fit?
It takes under 2 hours to fit this innovative technology, with minimal disruption to your home or work environment.
If you'd like to talk to us about fitting this innovative technology in your home or workplace please contact us today.
When the heat is on,
let ACS cool you down!
Get in touch with us today to find out more about any of our services, to request a quotation or to organise your free survey to see how our services can benefit you.