Intesis - Control your Air Conditioning via Mobile Phones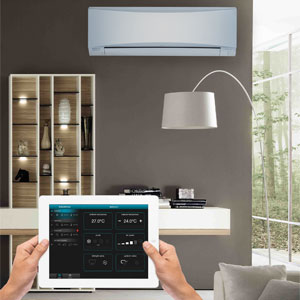 IntesisHome® is a remote climate control system, allowing management of your Air conditioning from anywhere using Smartphone, Tablet or any web browser.
From an Intesis Home App / webpage you can turn the unit On/Off, change the mode, see the room temperature, change the fan speed and vane position of the AC unit. you can also set up timers and adjust automatic operation.
IntesisHome has two solutions to adapt to your needs. One general solution and another one more specific with more demanding functions:
Universal Wi-Fi Controller
Can be located anywhere in the room or can be powered directly from the AC unit. The universal device communicates with the Air Conditioning through the infrared, just like your standard remote controller. That can get to control almost any air conditioning brand and model.
Specific Wi-Fi Controller
The best option for advanced control. Specific devices have the advantage that they can communicate directly with the Air Conditioning unit broad. Moreover, they can show extra information such as error codes and error descriptions, as well as power consumption, depending on each AC brand.
Our team use these at home and find it great to be able to turn the Air Conditioning on while on the way home, so it is nice and warm ready when you get home. We can also set up multiple timers, for example one for working days and another for weekends.
You can find out more on the IntesisHome website
When the heat is on,
let ACS cool you down!
Get in touch with us today to find out more about any of our services, to request a quotation or to organise your free survey to see how our services can benefit you.