Air filtration units
We are pleased to offer the following units:
Boneco H300 air purifier & evaporative humidifier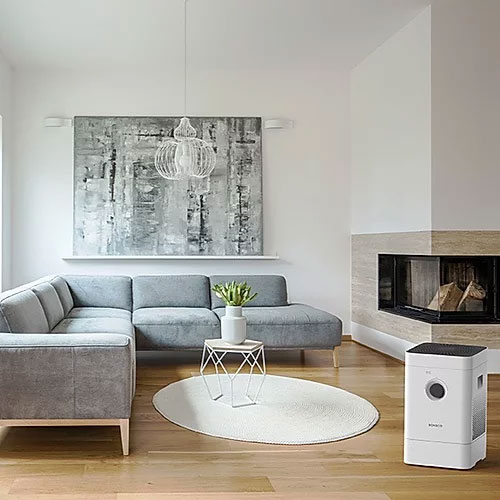 Multi-talented for excellent room air quality, for spaces up to 50m² and WiFi App controlled.
Product Description
Convenient handling, high performance and easy to clean - these are features of the HYBRID H300. It takes care of providing the ideal humidity within your four walls. At the same time, the innovative, integrated filter cleans the room air and alleviates discomfort for people with allergies. Thanks to an integrated sensor, this appliance measures the relative humidity level in real time and automatically adjusts its evaporator output. The HYBRID H300 provides for real well-being in your house!
The appliance can be operated directly using the control knob, and the BONECO app is available for additional functions: Simply set the desired humidity at which you feel best, and the H300 takes care of the rest. It doesn't matter what you wish for: higher humidity in the colder winter months, purified air during the pollen season or both - the H300 can provide exactly what you need. Choose the mode you want in the app (Hybrid, Purifier, Humidifier) and improve your air quality. In addition, various profiles are available for selection: The SLEEP profile supports restful sleep at night, and BABY creates pleasant conditions while your child is dreaming. Thanks to the integrated aroma compartment, you can fill your home with your favorite aroma.
In addition to making the unit convenient to operate, the designers also thought about making it easy to clean - most of the parts can simply be put in the dishwasher or washing machine, saving you from spending time scrubbing by hand. The understated and modern design of the H300 fits in every living room or office, and customers value its exceptional performance.
Product Highlights
High CADR (Clean Air Delivery Rate) of 90m³ per hour
3-in-1 hybrid device: Choice of operating as a Humidifier, Purifier, or both
Natural humidifying with a high-capacity filter to improve your overall well-being
Incredibly easy to clean washing machine and dishwasher safe Components
BONECO App offers intuitive user guidance and navigation
Real-time humidity measurement and control
2-Year Warranty
WiFi App Controlled
Silent Mode at night due to light sensor
System Description HYBRID
Depending on requirements, the HYBRID system can be used either as a humidifier, an air purifier or a combination of both. A permanent pre-filter stops hair, household dust and other larger dirt particles. The downstream filter reduces nearly all viruses and absorbs bad odors. Last but not least, the evaporator mat is responsible for air humidification.
Product Details
Low power consumption
Automatic shut-off when water base is empty (red AUTO LED)
Convenient handling thanks to the direct filling of the water base
Easy to control using the control knob, six performance levels for individual settings and preset comfort mode for optimum humidity
Additional functions using the BONECO app: Predefined profiles (AUTO, SLEEP, BABY) with optimum relative humidity level, ON/OFF timer, child-safety lock, filter change reminder, direct access to the BONECO online store
High-quality components with a long service life
Fragrance container for the use of essential oils
Filters typically last 6 months but can be extended by regular washing of the filters
WINIX ZERO with free 2nd filter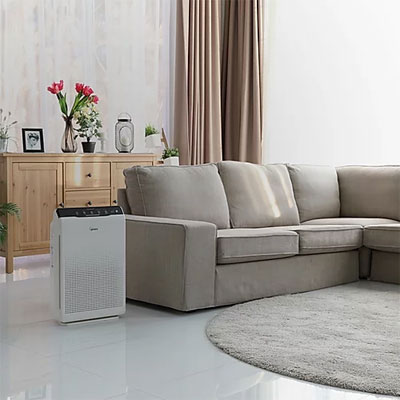 Recommended for rooms up to 99m².
The Air Purifier ZERO cleans up to 99m²
CADR (Clean Air Delivery Rate) of approx 300m³ per hour
WINIX PlasmaWave® air purifier Technology
4-stage filtration Air Purifier
Air Purifier WINIX ZERO is a very powerful air purifier that will clean the air in your bedroom or living space from allergies, fine dust (PM2.5), dust, pollen, pet dander, cigarette smoke, mold spores, VOCs and household odors.
The air purifier WINIX ZERO is an air purifier that can be used in all indoor environments up to 99m².
The air purifier WINIX ZERO is an air purifier that cleans your indoor air quality with a 4-stage air purifier system by using a washable pre-filter, a carbon filter, a H13 True HEPA filter (99.97%) and the unique WINIX PlasmaWave® air purifier technology. This air purifier, the WINIX ZERO is the ideal air purifier for any bedroom, living room.
The air purifier WINIX ZERO is a tested and certified air purifier by both AHAM, ECARF and Allergy UK. This ensure that you are using an air purifier that truly improves Your indoor air quality. Besides the unrivaled quality of the air purifier WINIX ZERO, this air purifier is also awarded the coveted Reddot Design Award. With this air purifier, the WINIX air Purifier ZERO brings you and clean air and a piece of design inside Your home environment.
The air purifier WINIX ZERO combines top-class Design together with the Cleanest Air You can make Yourself!
PLASMAWAVE® TECHNOLOGY- The PlasmaWave® air purifier technology creates Hydroxyls to neutralize viruses and gases without producing any harmful Ozone
TRUE HEPA FILTER - The True HEPA filter of the air purifier filters 99.97% off all particulates and allergens from the air
CARBON FILTER - This air purifier has a carbon filter to absorb odors such as cooking smells, cigarette smoke and pet odors
PARTICLE SENSOR - The particle sensor in the air purifier shows the indoor air quality through the Air Quality Indicator LED lights
NIGHT MODE - With the automatic night mode the LED lights will dim and the air purifier will whisper silent continues to work
AUTO MODE + 4 FAN SPEED - This air purifier is having an auto mode and 4-fan speed settings
Silent Mode at night due to light sensor
2-YEAR WARRANTY
When the heat is on,
let ACS cool you down!
Get in touch with us today to find out more about any of our services, to request a quotation or to organise your free survey to see how our services can benefit you.