Air conditioning company's work on University of Chester library proving 'Cool' with students
27/11/19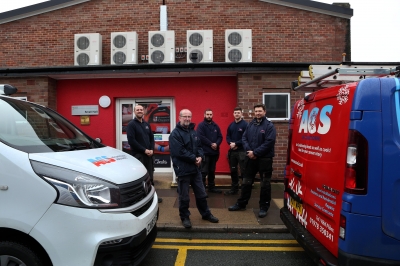 A Wrexham air conditioning company has completed work on a number of projects at the University of Chester.
ACS Cool, which provides domestic and commercial air conditioning services, has delivered a number of indoor units and cooling systems at the university's Seaborne library on its Parkgate road campus.
A team of three technicians spent three weeks on site installing a VRF system consisting of 14 indoor units.
Gareth Shipley, founder and director of ACS cool said the team worked quickly to deliver a modern system for the university.
He said "We had to carry out this work during a break in the term time to limit the disruption.
The university was previously using an automatic system to open the windows depending on the temperature inside, which had proven to be noisy and we were brought in to replace this with air conditioning".
The company has also installed further systems for the university throughout the summer months , including on the main city centre campus as well as inside the lecture theatre at its Warrington campus.
Gareth added that securing the work at the historic university had been a real positive for the family company and hoped it would shine a light on the business locally.
He said "This year has really ramped things up for us and it's quite the coup to get a customer like the University of Chester on board".
"We have clients across North Wales and Cheshire, and are working more and more in the city of Chester. We want to be the city's number one go to company for Air conditioning.
Work on the University sites is the latest in a long line of projects ACS have completed in the city, including the iconic Chester Racecourse.
Founded in 2004, ACS Cool specialises in domestic and commercial, including office, air conditioning servicing, maintenance and installation.
When the heat is on,
let ACS cool you down!
Get in touch with us today to find out more about any of our services, to request a quotation or to organise your free survey to see how our services can benefit you.