30 cool things to see and do in North Wales
19/05/22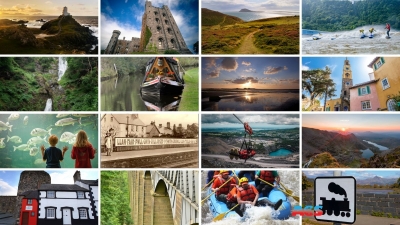 In April we're making Anglesey and the North Wales coastline our second home as we'll be busy working on projects in that area. To celebrate this and the fact that the Easter holidays are almost here we're going to share 30 cool things (see what we did there) to see and do in North Wales. We hope it inspires you to explore - let us know which is your favourite or if we've missed anything out. Oh and if you see our vans out and about give us a wave!
1. Take a trip on a narrowboat Llangollen Canal
Take it easy with a trip on a narrowboat along Llangollen canal - did you know that Llangollen canal is one of the most popular canals in the country with around 15,000 boats a year chugging along on it?
2. White water rafting
Feeling brave? Based near Bala the National White Water Centre is the home of white water rafting and kayaking in the UK and offers fantastic white water adventures on raging natural rapids in picturesque Snowdonia National Park.
3. Zip world
North Wales is home to the fastest zip line in the world, want to soar over Penrhyn Quarry and travel at speeds of up to and over 100 mph while taking in unbeatable views of Snowdonia?
4. Surf Snowdonia
Surf Snowdonia is the world's first and only Wavegarden surfing destination of its kind. Go catch some waves whilst taking in the majesty of the Conwy Valley.
5. Llandudno great orm and prom
Visit Llandudno and you'll find loads to do - eat fish and chips on the expansive seafront, watch the famous Punch and Judy show, take a walk along the two-mile promenade, hop on the cable car or the tramway and take in the views of the fabulous views of the North Wales coastline at the top of the great Orme. You may even spot a goat!
6. Bird watching on Lake Vyrnwy
Built in the 1880s to supply Liverpool with fresh water, Lake Vyrnwy is now designated as a Site of Special Scientific Interest. Take your bikes and a picnic and cycle round the beautiful lake and it's surroundings - or if you're a keen twitcher RSPB have 3 hides to spot pied flycatchers, redstarts, dippers and goosanders.
7. Beddgelert
Sadly, the legend of Gelert - the brave and loyal dog who gave his life to save his owners' child, and is said to be buried in this sweet north wales town - is not actually true, it's said to be a story made up by a shrewd businessman. However, a visit to Beddgelert makes for a pretty nice day out.
8. Conwy castle
Walk the complete circuit around the battlements of Conwy Castle and you'll be rewarded with a view of the craggy mountains of Snowdonia in the distance and the harbour and narrow streets of Conwy below you.
9. Pistyll Rhader
Standing at 80 metres Pistyll Rhaeadr is the UK's highest single-drop waterfall. Did you know that it is considerably higher than Niagara Falls?
10. Caernarfon castle

Caernarfon Castle is recognised around the world as one of the greatest buildings of the Middle Ages. And grouped with Edward I's other castles at Conwy, Beaumaris and Harlech is as a World Heritage Site.
11. Ty Coch
The Ty Coch Inn in Porthdinllaen is arguably THE best pub in Wales and is officially in the top ten beach bars in the world! Fancy a pint?
12. Anglesey Sea Zoo
Looking for something to do on a rainy day? Why not visit the Sea Zoo in Anglesey? The largest aquarium in Wales it displays over 150 native species.
13. Llanfair pg
With 58 characters split into18 syllables Llanfair PG is purported to be the longest place name in Europe and the second-longest one-word place name in the world. Just don't steal the sign!
14. Bardsey Island
Bardsey Island/ Ynys Enlli lies about 2 miles off the Lleyn Peninsula and is 1.5 miles long and just over half a mile across. Take a day trip - if the water is calm - the Welsh name Ynys Enlli means "The Island in the Currents"
15. Ffestiniog railway
The Ffestiniog Railway is the world's oldest narrow-gauge railway with almost 200 years of history, taking you on a 13½-mile journey from the harbour in Porthmadog to the slate-quarrying town of Blaenau Ffestiniog.
16. Welsh mountain zoo
Set on one of the most picturesque and unique landscapes for any Zoo in the UK, the Welsh Mountain Zoo is set over 37 acres of lush green landscape that looks across Colwyn Bay and to the Carneddau mountains.
17. Erddig
Erddig Hall - this country house, built during the 17th and 18th centuries, has the second largest collection of items in the whole of the National Trust.
18. Portmeirion
Not able to get to the Italian Riviera this year? Visit the beautiful Portmeirion Village, built by Welsh architect Clough Williams-Ellis from 1925 to 1973, and be transported.
19. Surfing at whistling sands
The English name for Porthor,' Whistling Sands', is derived from the squeak or whistle emitted by the peculiarly shaped sand particles being rubbed together when walked on in warm weather. The sound can be made by stamping or sliding the feet on dry sand. But if you want to get your feet wet the break here can be ideal for surfing and bodyboarding in the right conditions.
20. Cadwaladrs ice cream
In 1927 the Cadwalader family made and sold their secret recipe for vanilla ice cream, from the window of the Criccieth general store - now it is globally renowned - and though they don't make the ice cream in the shop anymore it's worth a visit to the cafe in Criccieth
21. Greenwood
Once voted best family day out in North Wales, the award-winning Green Wood Family Park is a gigantic playground nestled beneath the trees of Snowdonia's National Park.
22. Smallest house in Britain
The Smallest House in Great Britain measures 72 inches wide by 122 inches high, and you can visit it in Conwy. It was occupied right up until May 1900, and ever since it has been visited by thousands of people from around the world. The last person to live there was local fisherman Robert Jones who was 6 foot 3!
23. Penrhyn castle
Its formidable architecture, victorian grandeur and fine interiors not only make Penrhyn Castle an interesting day out but they were also a perfect backdrop for filming parts of the binge-worthy TV programme Game of Thrones.
24. Anglesey kite surfing
If you are looking to get into kitesurfing in North Wales, then Rhosneigr Beach on Anglesey is the best place to do it. The weather, wind and water here combine to make it one of the best places for kitesurfing in the UK.
25. Bodnant garden
A small slice of the South of France in North Wales - catch this place on the right day, in the right weather and you'll be transported. Also famous for it's laburnum arch which blooms in late May - Bodnant is a beautiful and interesting day out.
26. Gwrych Castle
The ruins of Gwrych Castle, a 200-year-old medieval Grade I listed country house, stand in 250 acres of gardens and grounds and have extensive views over former parkland including a deer park and the Irish Sea. But you might know it from the telly - it's been host to I'm a Celebrity Get Me Out Of Here for the past 2 years.
27. Ynys llanddwyn
The small island of Ynys Llanddwyn, off Angelsey, is rich in legends, in particular, its association with Dwynwen. The name Llanddwyn means "The church of St. Dwynwen". Dwynwen is the Welsh patron saint of lovers, the Welsh equivalent of St. Valentine - you could say it's Wales's very own love island?
28. Aqueduct
Pontcysyllte near Llangollen is an awe-inspiring landmark. Also known as the stream in the sky it's North Wales' only UNESCO World Heritage Site. Standing at 126ft high above the River Dee you can walk along it or even canoe across it.
29. The Centre for Alternative Technology (CAT)

Nestled in the stunning UNESCO Dyfi Biosphere in Mid Wales, is a world-renowned eco-centre that demonstrates practical solutions for a sustainable future. Why not arrive in style and take one of Europe's steepest water-balanced cliff railways up to the visitor centre and discover a hidden world, packed full of working examples of renewable energy, beautiful organic gardens, experimental green buildings and sustainably managed woodland habitats.
30. Snowdon
We're finishing our 30 cool things to do and see in North Wales with one of North Wales's most famous and recognisable landmarks - Snowdon (Yr Wyddfa in Welsh). It's the highest mountain in Wales and England - and one of the most accessible mountains to boot - you can even take a train up it. We hope you've enjoyed our little tour of North Wales - did we miss anything?
When the heat is on,
let ACS cool you down!
Get in touch with us today to find out more about any of our services, to request a quotation or to organise your free survey to see how our services can benefit you.