Climate Chamber Units (Stagionello)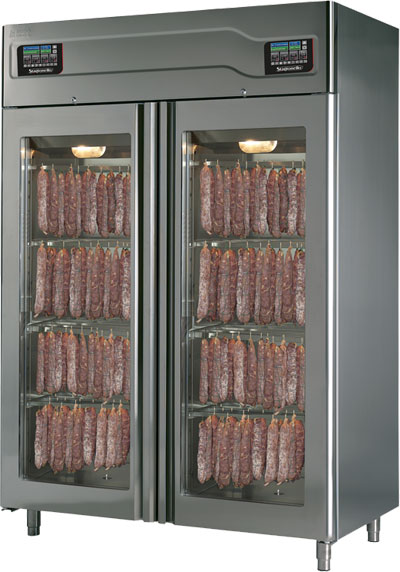 We have recently started working with Stagionello, an Italian company who develop and produce Climate Chamber units for the curing of meat and Maturmeat for dry ageing of meat.
We work with them for new sales, also maintenance of repair of existing units.
We are UK based, but with our contacts and direct supply from the Manufactures we can assist with all faults.
Anna - one of our Engineers recently attended a Master Class training course at the head quarters in Italy.
Why Stagionello and ACS?
Free Training
Free Commissioning on site
UK Telephone Support
UK Email Support
Fully Insured from Pick up to delivery to your site
12 Months Parts and Labour Warranty
Butchers Manual and English User Manual
Why Stagionello Units?
Patented Technology
Patented Fully Stainless Steel unit with Stainless Steel Door with glass display
Patented Humidity System offering in-direct air flow into the whole cabinet (no hot/cold spots)
Patented Internal PH meter which shows on display
HACCP data on the machine also FREE printer for data
Fully Made to order cabinets
We now offer a Free PH Probe and Free Haccp Data Printer with a choice of fixed legs or wheels
Find out more
Visit our Salami Cabinet website for more details and you can view product information and full specifications on the Stagionello website.
When the heat is on,

let ACS cool you down!
Get in touch with us today to find out more about any of our services, to request a quotation or to organise your free survey to see how our services can benefit you.